Buckets
For easy and simple storage of a large quantity of honey, buckets are the ideal container. The obee-shop.com site offers online sale of buckets in a variety of sizes: 5kg, 10kg, 25kg or 40kg. Made of polypropylene plastic, these containers are both sturdy and light. This means that they facilitate collection and storage of the products of the hive. These buckets are all given a careful finish in the service of a practical approach to beekeeping. As well, each of these buckets is equipped with a reinforced flange for extra rigidity. They also have plastic handles or grips for easier daily transport. To ensure optimal security for the precious nectar that is honey, the buckets on sale at the obee-shop.com site are equipped with an ingenious inviolability system.
Among these careful finishing touches, the buckets offered in this category have lids equipped with easy closure and opening. Both economical and environmentally friendly, they are in addition reusable to ensure maximum comfort for the beekeeper.
For large containers as well as for the smallest, obee-shop.com ensures that it can provide beekeepers and other users with jars and packaging that are practical and suited to each individual need.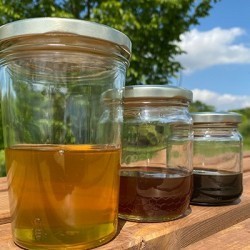 Sorry for the inconvenience.
Search again what you are looking for